PLEASE NOTE: Our couriers have been impacted by significant and unprecedented delays. All orders placed will take longer than usual to dispatch.
We apologise for any inconvenience this disruption may cause.
Happy holidays! We will reply to your emails and dispatch your orders when we return on the 13th Jan. Thank you.
Due to COVID-19 and extreme weather disruptions, orders may experience some shipping delays. Learn More
PLEASE NOTE: Our couriers have been impacted by significant and unprecedented delays. All orders placed will take longer than usual to dispatch.
We apologise for any inconvenience this disruption may cause.
Happy holidays! We will reply to your emails and dispatch your orders when we return on the 13th Jan. Thank you.
Due to COVID-19 and extreme weather disruptions, orders may experience some shipping delays. Learn More
PLEASE NOTE: Our couriers have been impacted by significant and unprecedented delays. All orders placed will take longer than usual to dispatch.
We apologise for any inconvenience this disruption may cause.
Happy holidays! We will reply to your emails and dispatch your orders when we return on the 13th Jan. Thank you.
Due to COVID-19 and extreme weather disruptions, orders may experience some shipping delays. Learn More
Aperion Intimus 5T Tower Speakers (Pair, Black)
EAN: 8527287004436
SKU: I5T-HGB-Y2,I5T-HGB-Y2
200W 2-Way Floorstanding Speakers Aperion Intimus 5T Tower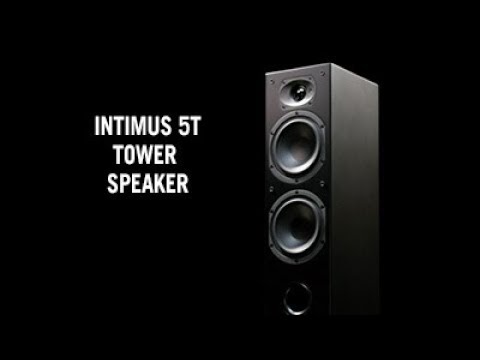 The versatile Intimus 5T Tower poses a triple threat, thanks to unmatched acoustics, aesthetics and economics.
First the acoustics: The Intimus 5T Tower delivers arresting music and dramatic theatrical sound with authority, while taking up no more space than a bookshelf speaker on a stand. Two custom-designed 5.25" woven-fiberglass woofers handle the low end of the spectrum, assisted ably by the 1" audiophile-grade silk-dome tweeter at the opposite end. Because the 5T was designed with power efficiency in mind, it sounds fantastic with a range of electronics driving it. So you make the call.
Now the aesthetics: The 5T Tower looks as good as it sounds. The handsome, precision-fit cabinet is hand-finished with layer upon layer of luscious Gloss Black piano lacquer to ensure a deep luster that never quits.
And finally the economics: We designed the Intimus series, especially the pater familias, with the philosophy that you should pay only for features that enhance the enjoyment of your ears or eyes. And that makes the 5T Tower value unbeatable.
Key Features:
- Dual 5.25" Woven-Fiberglass woofers deliver excellent bass and lush mid-range sound
- 1" custom designed silk-dome tweeter for smooth, clearly defined highs at even the highest volume levels
- Hand-polished Gloss Black Lacquer finish
- Curved design aesthetic and small form-factor to blend seamlessly with your décor
- Anti-resonant cabinet
The 5T is the perfect blend of size, price and performance -- small in size and huge in sound. You may court a lot of midsize tower speakers, but this is the one you'll want to marry.
Customer Reviews For Intimus 5T Tower Speaker
Crystal clear and precise sound!!

S. Sanu

I accidentally discovered this website one day while going through reviews on hometheaterreview.com and I became interested. But buying something you never heard as well as not having any local store that sells them is always a risk. However 30 day in-home trial with free shipping both ways is no brainer. When the Speakers arrived they were boxed very well. They come wrapped in the pretty nice velvet bag with gold drawstrings. Hooking them up was very easy - 4 screws and a speaker cable that's it. There is an awful lot to like about Aperion Audio's Intimus speakers, especially the cost. The build quality is excellent, as is the attention to detail, such as threaded mounting points both bottom and back, gold plated binding posts. The High Gloss Piano Black finish is beautiful. It has such a perfect mirror finish. The drivers are of high quality and the resulting crystal clear and precise sound is one that is easy to love and listen to for hours on end. My setup is 2 5T's, 2 4T's, 5C, 2 4B's, and the 8D.

Great Speakers!

Sbbailey999

I went to the Aperion sound studio to listen to their speakers before I bought the 5Ts. I almost purchased the 4Ts online, but am glad I didn't - the 5T has a much fuller sound and fills in some of the holes left by the 4Ts small footprint. The price was extremely good, considering I got quotes for high-end speakers from other places starting at $1,500 for bookshelf 3 way (admittedly in European walnut). I didn't realize how great these speakers were until I got them home. The sound quality is so amazing it is addictive and from hip-hop to piano concertos, they blow me away every time. Many friends have asked me what kind of speakers they are. They are unquestionably the best speakers I have ever owned. I waited for a few months before I bought the subwoofer and if I had it to do all over again that is the only thing I would change - I would have bought it right then. Also, the cherry finish looks much nicer in person than it looks online. My advice would be to bring your favorite CD down to the Aperion store some weekday afternoon (they aren't open on weekends) and I guarantee you will be walking out with a set of your own.

Phenomenal value-priced speakers

Susan S.

After moving and fixing up a new home, I decided it was also time to renovate my 12 year old stereo sound system (no TV). My first instinct was to go to buy local so I previewed a lot of different high end speakers at nearby audio equipment stores. Some were good, but the great ones were out of my price range.
So I started to look at the direct purchase companies and, after reading numerous reviews and talking to the online gurus, decided to give Aperion a try. I originally purchased the 4Ts with the hope that they might meet my needs but and they were a little bright in my 18X23 high ceiling listening space. While I expect they would be fine in a smaller room, I wanted more midrange and a lot more bass.
So I purchased 5Ts, a high quality subwoofer, and couldn't be happier. These Aperion speakers are phenomenal. Everything from Neil Young to Miles to Mahler sounds great. So clear, so musical. And of course the finish on Aperion speakers is gorgeous (I purchased the Cherry). Delivery? Took just five days to arrive cross-country right before the xmas holidays.
Five stars to the speakers and five stars to the helpful Aperion staff.

Chuck in S.C.

Chuck B.

I was not sure if the 4C or 5C would work for me in a room 15X33. I have not been disappointed with the 5C. I have the 5C paired with the 5T's and 8D sub and the sound is superb. Music and movies are a whole new experience. Even TV makes you just listen and remark that there are sounds that were never heard before. I could never go back to basic TV sound. I would recommend the 5C for anyone wanting great center sound. Consider the sound value of the 5C paired with the unbelievable customer support and you have a winning set up...

Chuck in S.C.

Chuck B.

I was not sure if I wanted the 4T's or 5T's but got the 5T's and have not been disappointed. I thought the 4T's may be a tad lacking in bass considering the size of room being 15X33. The 4T's may have done the job but I am really pleased with the 5T's. The bass and mid range are great and paired with the 5C and 8D sub, I am extremely pleased. Both music and movie sound is great. I am no audiophile but I can't imagine not being happy with the 5T's unless you are willing to spend over $1400.00 for a pair and then there are the 6T's. Considering the free home trial and the great expert advice (and believe me, if they have not gotten tired of my questions then they will please anyone), this is a product that is a no lose proposition for anyone considering a superb sound system.

Incredible Buy

Robert B.

I've had these long enough to be past the breakin period. There is nothing original I can say except WOW these are a steal. The fit and finish is incredible. Far above the price level and even above much pricier units. The soundstage is wide and fills our 15x18 livingroom. I can even turn off my old subwoofer without ruining the effects of a Blu ray DVD. The pitch is very accurate and doesn't feel like it comes from a box. We have a 5C to go with these and will complete the system with the dipoles and a new subwoofer later.
In a medium size room, at a very good price these absolutely can't be beat. I went through every sound shop in our area to find that out. The cherry finish and compact size sold them for my wife who has been after me for years to get rid of the old 15" studio monitors.

Inconspicuous Power

Justin F.

I have had these speakers for a few months now and love them. I initially was using the 632LR's for the front left and right positions in my home theater. Eventually upgradeitus struck and I wondered how a tower would compare. I should preface this by saying that I loved and still loved the 632's (I now use them in a stereo setup in another room). Nonetheless, the 5T's are a great step up. With the extra woofer these speakers are excellent at filling the room with sound. I listen to everything from TV sitcoms to big budget thrillers to organ and jazz music and just about everything else. The ability of these speakers to fulfill all these roles whether supportive in a theater setting or primary in a stereo setup for music is excellent.
On the style front, they are gorgeous speakers. The wood finish is gorgeous and the rounded edges are are an excellent touch. Their size is perfect. They are significant enough to give a guy a feeling of a little power, but small enough to not feel intrusive on the room.
Overall, these speakers have gone well beyond my expectations with their ability to fill the room with any type of sound and not feel overbearing. And like all of Aperion's speakers, these towers are quite the beauties.

What to expect with the 5T tower

dale f.

Just want you to know if you have never heard an Aperion 5T, you're in for a treat. I owned B&W 602 and 603 and was happy with them but always felt I was missing something. Well I accidentally discovered this website one day and when I read about the 5T I became interested. But buying something you never heard as well as not having any store near by that sales them is always a risk.
But talking with the Gurus and people on the forum here helped me make the decision to try them. Heck they give you a 30 day trial so that takes some of the risk out of it.
When the Speakers arrived they were boxed very well. I opened them and they come wrapped in the pretty nice velvet bag. My first surprise is that they were smaller then I thought they would be... I think tower I think big. Actually I like the size of the Aperion Tower they are the right size for my room. By the way, I got the piano black and it is a great color.
Hooking them up were very easy - two screws and that's it. The sound this speaker gives off is unbelievable, they are crystal clear and precise. I hear things I have never heard before with these speakers. They wiped the floors next to my B&W's. They have a lot of power with no distortion.
For me this is the best speaker I ever bought and if you like speaker with sound that is clear and has a lot of power this is the speaker for you. I can only imagine what the 6T sounds like.

Professional Grade

Nlvroman

The 5T Tower Speakers are of excellent craftsmanship. The High Gloss Black is beautiful, it has such a perfect mirror finish. The speakers have some of the best sound I have heard out of a set of speakers. The sound quality is so high, I think I am in a theater every time I watch a movie! Highly Recommend!!!

The towers rock.

Chris B.

The towers were the last installed speakers (All Aperion) in our new media room. I purchased the blu-ray version of Pearl Harbor. The sound is so good it is scary. Cheers to Aperion!

Great!

Scott R.

Well, I received my 5 series speakers and absolutely love them. The finish is excellent and more importantly, they sound great. Extremely satisfied customer. Will buy from you guys again... thanks

Wonderful Sound

Tom W.

I had some bookshelf speakers on rather large ornate stands and had some negative WAF feedback about the amount of space they took up in the living room. Using careful measurements I was able to convince her the 5T's would take up less space and we would have excellent sound which was the most important thing to me.
After getting them hooked up (12 gauge wire) and having a very decent break period, I am very happy with the sound and my wife is not saying too much about the footprint. They do take up less space than the bookshelves with stands are are very crisp and clean.
We watch TV and movies, and paired with a 5C center and brand x sub (already in inventory) we are very pleased with the upgraded sound and smaller footprint. When I listen to music you can tell the difference between 2 and 7 way stereo because the center takes a huge load off the L/R speakers. Thanks Aperion! The 5 Series is an excellent choice for mid-sized listening areas.

wonderful

Andrew M.

When I ordered these I was concerned that they wouldn't be large enough for the room i was putting them in, but with the 30 day in home trial period, and the ability to trade them in and get credit towards a larger set, there was no reason to not give them a try. What I have found is a set of marvelous, unobtrusive tower speakers. The sound fills my room perfectly, leaving very little to want. There is little better than putting on a vinyl, turning out the lights and being engulfed by the music.

Fanastic Speaker

Jeffrey S.

I have had the 5Ts for two weeks now and I must say I am very happy with them. I have a 24 x 14 foot well insulated room for movie watching and they easily fill the room with sound. I had been debating between the 6 and 5 series but I figured that with the 30 day trial that I could not go wrong.
In fact, I am happy with the experience on fronts - sound quality, speaker build quality, and customer service quality. These speakers look striking (I have the high gloss black) and the customer service has been consistently great. They staff is knowledgeable, courteous, and prompt. I have no complaints whatsoever.

Great Speakers!

R M.

After months of research, I bought two 5T speakers 15 days back. Using them in my living room as front end speakers with Onkyo TX-SR605 - connected to my TV, VCR, DVD, CD players and even iPod. From all sources, these speakers sound great in home theater or in Stereo. Did not get time to test all the audio settings with the receiver but with minimum basic settings these speakers sound really great. I have a plan to complete my home theater system down the line and I will buy these again. I didn't buy a sub at this time but even without that the sound is great and fulfils my purpose. We can hear lot of soft sounds now which we didn't hear before.
I also appreciate the aperion customer service - always there - only one phone call away.

Impressive!!

Misty P.

We just made our first foray into high-end audio with this speaker and we are nothing less than fully impressed. Our living room has become a sanctuary for movies, music, and games! Great job Aperion, a lot of bang for the buck here!

Clean sound all the way through!

Brian M.

Aperion really did go all out when they want their speakers to look really nice. Even out of the box, these speakers are amazing to look at. My buddy who helped me setup my system even said the speakers are really something to look at.
To the sound, the 5T's really do have a clean and tight sound coming from them at most frequencies. I did notice the bass is somewhat lacking, but that is not why I bought them. I bought a Bravus sub to handle that.
I really enjoy the performance these speakers can handle at such a small size. I did not want to get huge towers like the 6T's and take up a whole lot of room.
Very nice speakers!

Happy Camper with the 5 Series

Joseph T.

I have the 5T's as fronts with 5B's for surround and a 5C center coupled with a Bravus 10D subwoofer. Being part of a family makes a lot of sense to me; they complement each other very nicely. And, as a plus, they look terrific. The towers are a nice compact size but don't let their size fool you; you get great sound out of them.
On top of a great product, I've found Aperion to be a terrific company to deal with. They're helpful, knowledgeable and don't treat us newbies like we're morons. Always a pleasure to talk with. You won't regret your Aperion purchase; whether it's the 5T or any of their other fine products.

Amazing!

Humberto C.

First impression out of the box is jaw dropping beauty. Aperions seamless finish and design is so gorgeous that even my girlfriend said "those are sweet!". Black gloss for me with grills off =D
I am only on day two of listening and the sound is better than anything I have ever heard. All across the board these reproduce highs, mids an even very impressive lows with ease. An they can crank and sound clean! From metal to jazz you will think the concert is in your room.
Yes you will spend a little more now with this new line. But you will NOT be disappointed. These will be the last front speakers I buy for many many years.
Thanks to the Aperion staff for making this a very enjoyable experience!
Pro Reviews For Intimus 5T Tower Speaker
Goodsound.com review of the Intimus 5T Tower

"I made a mistake with Aperion's Intimus 5T loudspeaker that I won't make again: I judged it, harshly, before giving it a chance. It's an attractive and thoughtfully designed package that purports to be nothing other than what it is. It forgoes deep bass to focus on producing an expansive, evenhanded sound with admirable imaging. And with its ten-year warranty on drivers and 30-day guarantee, with free shipping both ways, the interested listener can sample a pair without risk. Bearing in mind Aperion's return rate of less than 5%, the odds heavily favor the 5T making only a one-way trip."

-- Hans Wetzel, goodsound.com, September 2012

Read full review

SoundStageXperience.com Reviews Aperion Intimus 5T Tower Speakers

"Aperion is just as interested in providing quality service as it is in making money."

"Even with the sub off, I was amazed at just how much oomph the 5Ts could deliver."

"My friends, none of whom are audiophiles, were floored by how good each album sounded. What was most surprising for me was just how well the 5Ts and the 10D handled higher volumes. Even at a volume that likely rivaled that of my drums, I couldn't discern any deterioration of sound quality. My experience with high-quality audio gear is rather limited and my ears are untrained, so I don't have the lexicon to give a totally adequate description of just how the system sounds, but I guess if I had to use one word it would be solid."

"There's definitely something very special and satisfying about hearing an album you've listened to hundreds or even thousands of times as though it were the first time you'd ever put it on."

- Andrew Jones, SoundStageXperience.com, December 2010 Read Full Review

Home Theater Review Reviews the Intimus 5T-DB Hybrid HD, January 2010

The Intimus 5T Tower Speaker is a component of the Intimus 5T-DB Hybrid HD system.

"This is a real speaker system, meant to produce big sound that equally produced an audiophile grade musical experience at more modest listening levels. Considering their price versus performance - even someone with $20,000 speakers parked in their living room would be impressed with the HD sound of this Aperion system. Overall, the system produces a massive soundstage that is truly immersive on both movies and music. Between the packaging, the well-written instructions, the included accessories and the stellar performance of these speakers, I can recommend them unequivocally. In the new economy and at these prices, these speakers just make sense."

- Sean Killebrew, HomeTheaterReview.com, January 2010 Read Full Review